Pike Gear Setup: Part 1 Bite Guards & Leaders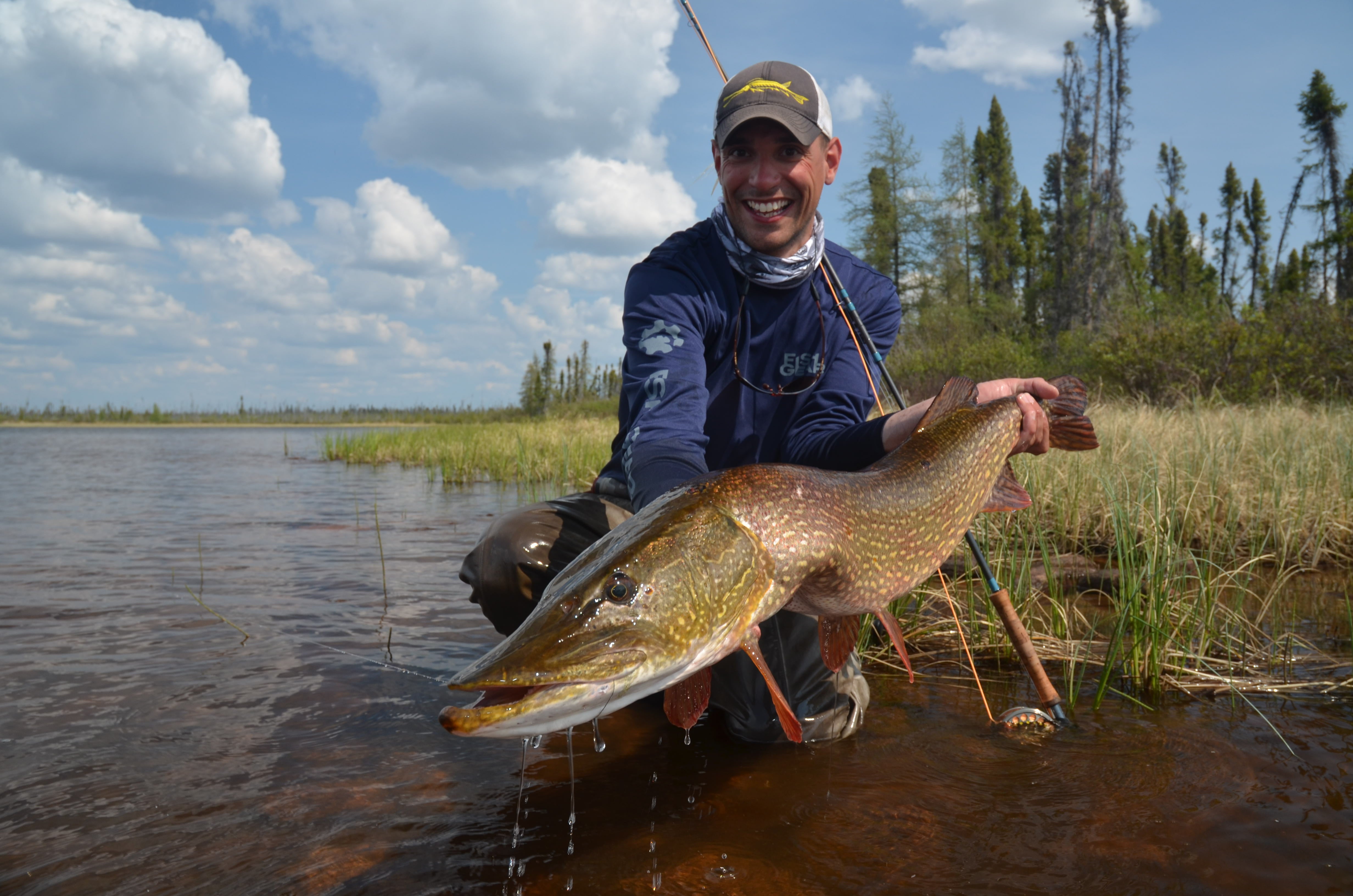 The single most common question I get from people when they hear about fly fishing for pike is always "well don't you need a steel leader for that? How do their teeth not cut through the leader?"  That's a fair question and so now that we have high muddy rivers and its peak season for pike and walleye we're going to take this opportunity to address how to get setup for Pike and even Walleye on the Fly.
The first thing you'll need to start chasing pike is some sort of bite guard to protect against their numerous rows of teeth. Bite guards can be made from Steel, titanium, or flourocarbon and can be added to the end of any stiffer leader.  Let's look at the pros and cons of each of the different type of bite guards.
Bite Guard Options: 
Option #1 Steel
Pros:
-Low memory and resistant to kinking
-Tieable and easy to work with
-More affordable than many alternatives
Cons:
-Can kink after multiple fish
Option #2 Titanium Wire
Pros:
-Very low memory and resistant to kinking or coiling
-Extremely strong and thin
Cons:
-Hard to tie with (best to use crimps to make your leader)
-More expensive than steel
Option #3 Flourocarbon (#80-#100)
Pros:
-lowest visibility for line shy or spooky fish
-tieable (use a figure 8 knot to the fly and albright knot to your leader)
Cons:
-Very large pike have still been known to cut through even #100 floro if the leader is under tension and hits a tooth at the wrong angle.  This is typically only an issue with the largest pike, although those are usually the ones you'd least want to lose
Leader Options:
Option #1 Orvis Predator Polyleader with Titanium Wire
Pros:
-Very low memory and resistant to kinking or coiling
-Extremely strong and thin
-Comes with snap for quick fly changes
-Intermediate Polyleader is stiff and turns over the biggest flies extremely effectively
Cons:
-Intermediate Polyleader sinks so isn't ideal for smaller topwater patterns, but still works just fine for larger poppers, mice or frog patterns
Option #2 Scientific Anglers Absolute Predator Esox Leader
Proven, bombproof design for toothy predators such as pike or muskie
Hand Tied in the USA
Features abrasion-resistant 40LB fluorocarbon section
Premium 1×7 nickel titanium wire section is super straight, ultra kink-resistant, and 100% corrosion proof
Stay-Lok snap closure that won't open while fighting fish
Specs:
48" 40LB fluorocarbon
15" 35LB 1×7 nickle titanium
Size 3 Stay-Lok Snap
Option #3 Scientific Anglers Absolute Predator Toothy Fish Leader
PREMIUM WIRE LEADERS
8' tapered leader aids in smooth turnover of larger flies
Abrasion-resistant leader material holds up to harsh conditions
Premium 1×7 nickel titanium wire section is super straight, ultra kink-resistant, and 100% corrosion proof
Stay-Lok snap closure that won't open while fighting fish

 Specs:
8' 20LB tapered leader
15" 35LB single-strand titanium
Size 2 Stay-Lok Snap

 8' 20LB tapered leader
15" 55LB single-strand titanium
Size 3 Stay-Lok Snap
Length: 8 ft
Material: Wire
Species: Musky, Pike
Water Type: Freshwater, Saltwater
Option #4 Scientific Anglers Absolute Predator Figure 8 
PREMIUM WIRE LEADER
Designed specifically for finishing muskie retrieves with boat-side figure 8s to convert more follows
Hand-tied in the USA
Premium 40lb 7×7 stainless steel; 100% corrosion proof
Stay-Lok™ snap closure that won't open while fighting fish
Specs:
30" 50LB fluorocarbon
15" 40LB single-strand 7×7 Stainless Steel
Size 3 Stay-Lok Snap
Length

:

 

30"




Material

:

 

Wire




Species

:

 

Musky
Option #5 Predator Leaders 
PREDATOR WIRE LEADERS (2-PACK)
7.5' tapered leader aids in smooth turnover of larger flies
Abrasion-resistant leader material holds up to harsh conditions
15" section of tooth-resistant 1×7 stainless steel wire
Black nylon coated for low visibility
Heavy-duty black single-barrel sleeves for secure attachment of flies
Specs:
7.5' 20LB tapered leader
15" 20LB black-coated 1×7 stainless steel
 7.5' 20LB tapered leader
15" 45LB black-coated 1×7 stainless steel
Option #6 Scientific Anglers Absolute Predator Toothy Fish Stealth
8' tapered leader aids in smooth turnover of larger flies
Abrasion-resistant leader material holds up to harsh conditions
Premium 15" section of 80LB fluorocarbon for ultra-low visibility
Stay-Lok snap closure that won't open while fighting fish
Specs:
8' 20LB tapered leader
15" 80LB fluorocarbon
Size 3 Stay-Lok Snap
---