2023 Calgary Spey Clave with Tim Arsenault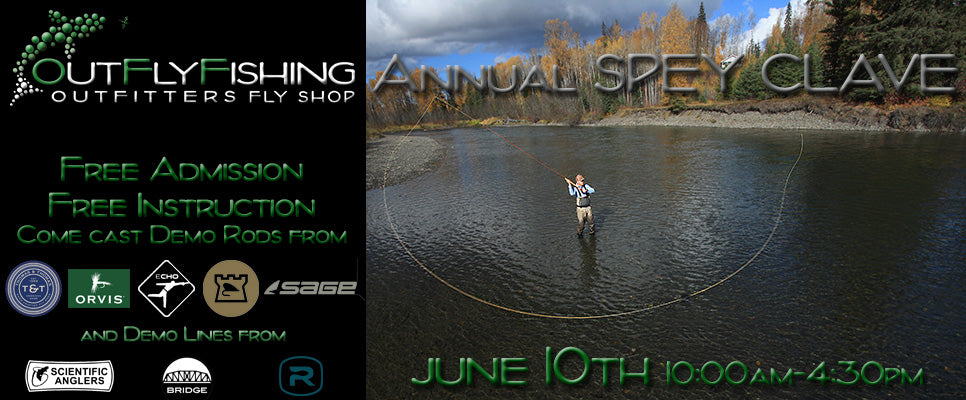 We're extremely excited  for this years Spey Clave, taking place on Saturday June 10th, 2023.  We couldn't be happier to have our Vendors and guest Instructor for this years Spey Clave. Once again its a totally FREE event for all attendees and we will also be providing lunch again as well.
Each hour will start with a Spey Casting Demo, and the last 45min of each hour will be for our guests to cast demo spey rods and lines from our vendors. Spey rods aren't easy to try before you buy, so this is your opportunity to take one for a test drive.  It's also the perfect opportunity for you to test cast different lines and find the line that fits your casting stroke and suits your rod best. No need to buy a bunch of lines you're not going to use, just to find the one that fits.  Come test cast spey lines and get your lines all dailed in for your specific rod and casting stroke.
Tim Arsenault, one of the Top Spey Casters on the Planet, will once again be our feature presenter and we're extremely excited to have him returning to Calgary.  Tim is one of the most dynamic and experienced Spey Casting Instructors we've seen and we're very excited to have him here (Tim will also be available for private lessons on the Sunday,  June 11 2023).
Tim will be doing casting demos on how to cast Skagit, Scandi and Long Belly Spey Lines throughout the day followed by a SALE back at the shop for anything to do with Two Handed Fishing.
Location: We will be located just up stream of the Graves Bridge Boat Launch (Glenmore Boat Launch) We will be setup on the gravel bar upstream of the Boat Launch & Bridge
Time: 10:00am-4:30pm
All Ages are Welcome to Join and children must be accompanied by an adult, we hope to see you all there.
Tight Lines Everyone
---