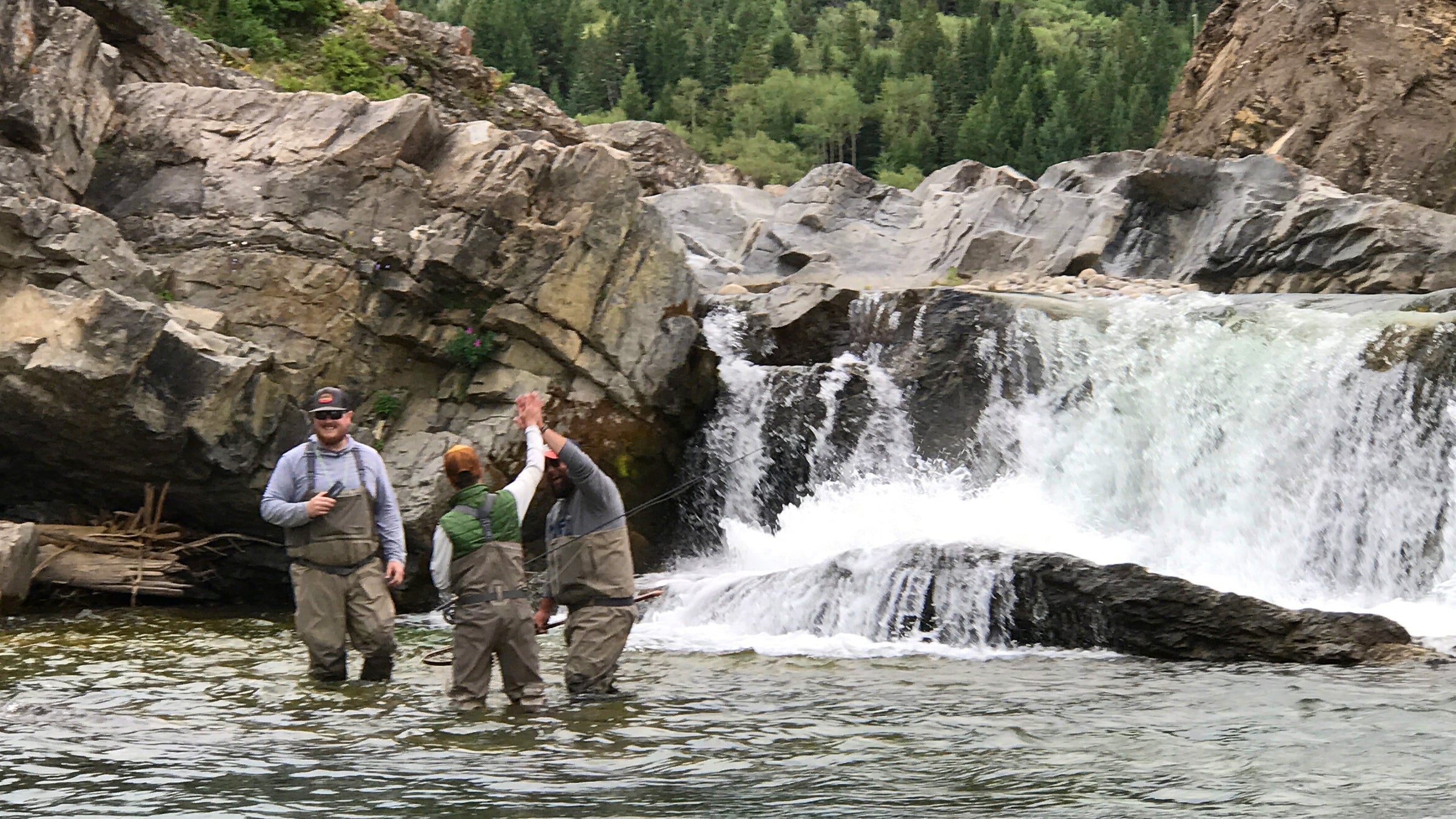 Reserve a Guided Trip Today
Josh Nugent (Outfitter & Guide)
Josh learned to fly fish at the age of six. By the time he was in Junior High he was giving casting lessons to other kids from his school. After completing a coaching diploma and playing basketball for Red Deer College Josh moved to Calgary. Once again he was back on the Bow river. His passion and love of fly fishing are second to none.
In 2003 Josh started Out Fly Fishing outfitters Ltd at the urging of others in the industry. Guiding put Josh through the rest of his undergraduate and graduate degrees at the University of Calgary. "During my undergrad I couldn't always tell you what happened during class, but I could tell you what the trout were eating." Josh did his Master's Thesis on the visual characteristics of expert fly casters. He did an eye tracking study where expert caster's eye movements were monitored while casting to targets. It examined the visual characteristics of expert casters with respect to accuracy, and what gaze characteristics are associated with accurate vs inaccurate performances. His thesis also addressed manipulations of attentional focus, and which is more conducive to an accurate performance. His study is the first of its kind in the fly casting world.
Josh has been fortunate enough to be featured in several fly fishing publications, both as a writer and in The Canadian Fly Fishers,Top Guide Spotlight. He has also worked with several Fly Fishing shows such as episodes with friend, and host of LL Bean's Guide to the Outdoors, Tim Rajeff and guiding Hunter Hoffler on In The Loop: Modern tactics on fly fishing. Josh has also served as one of the Co-Hosts for Fly Nation (Seasons 1 and 2) and the Spain Series. He's guided for episodes of Sport Fishing on the Fly and one season of Fly Fusion TV. Josh also serves as a Pro Staff member for Clackacraft.
"When I started this company at the age of 21 it was a risk. At 21 you won't be afforded the mistakes competitors twice your age would be, and I'm ok with that. I knew from day one that I was half the age everyone expected a fly fishing guide to be, but to me that simply meant I had to work twice as hard if I wanted to get people's attention."That is what Josh has done and continues to do. On a river as world renowned as the Bow river there is going to be competition in the industry. Competition is a great thing, because competition forces outfitters and guides to work harder and strive to provide the best service possible for their clients.  Josh's philosophy for O.F.F. has, and continues to be, "it's your day O.F.F. not ours."
Naoto Aoki (Lead Guide)

Out Fly Fishing was proud to announce the addition of Naoto Aoki, joining us back in the 2010 guiding season. Naoto Aoki was born in Banff, Alberta where he began fly fishing at a very early age, although he spent most of his life in Peterborough, Ontario. With fly fishing as his main focus, he has traveled the globe, pursuing some of the greatest game fish the world has to offer. From Peacock Bass deep in the Amazon to Atlantic Salmon in the pristine rivers of Iceland, there is not too much Naoto has not caught on a fly.
Naoto is also an outdoor writer and photographer and is regularly featured in such magazines as Fly Fisherman Magazine, The Canadian Fly Fisher, Fly Fusion and Outdoor Canada. He was also a co-host of Fly Max Films and both Seasons 1 and 2 of the new and upcoming show Fly Nation TV. Naoto has guided all over Canada and is one of the Bow top veteran guides! He has spent countless hours on the river and can show even the most experienced anglers tricks and techniques that will improve their fishing. Naoto is as gifted with people as he is with a fly rod or a camera so he is a welcome and experienced addition to the Out Fly Fishing team.
Akasha Bopp (Hosted Travel Manager & Guide)


Akasha Bopp joined Out Fly Fishing outfitters back in 2006. In 2003 Akasha and Josh coached club basketball together at the University of Calgary and have been fishing together since. Akasha worked as a high school social studies teacher for 11 years. He completed his Masters of Arts in Organizational Leadership Training and now works as a consultant in community and economic development. Akasha has been learning and helping others learn about fly fishing for over twenty years. He cut his teeth fly fishing on the many small streams in southern Alberta while growing up in Pincher Creek.
Akasha specializes in helping beginners enjoy the sport of fly fishing that he loves so much. Although he enjoys fishing the Bow, his true love is the waters in the deep south of Alberta like the Crowsnest, the Livingston, and the Oldman along with the many other smaller tributaries in the area. Akasha's local knowledge and connections give him access to areas most of us can only dream about.Akasha has chased fished all across Alberta and British Columbia and all across Canada, but is also a very well traveled fisherman. Akasha has fished the flats of Florida, Mexico, Belize, and Cuba as well as Alaska, Papa New Guinea, Australia, France, Great Britain, and even Thailand. Akasha is also the Travel Manager for Out Fly Fishing Outfitters Fly Shop coordinating their Hosted Trips. Akasha is also an Echo Pro Staff team member.
Steve Gardner

Steve Gardner was raised in South Africa and has fished all over the world.  Hid vast experience chasing fish around the world and cheerful demeanour has made him an exceptional guide.  Steve was the one that discovered West Winds Fly Shop was for sale and came to Josh with the idea of purchasing the fly shop.  Steve and Josh were partners in the shop until Steve had Josh buy out his shares (as planned before the purchase was ever made) and they remain close friends, guiding, fishing and traveling the world together. 
The number of guided trips Steve has done to all corners of the world have given him an incredible sense of the type of service great guides provide and where they set the bar.  This is reflected in how patient Steve is with guests and how enjoyable a day on the water with Steve is.
Dean King


Well it was a long time coming but we finally have a proper bio for Dean. We put up a gag one about him being released from prison as a joke and believe it or not that motivated Dean to get us a more accurate bio so here it is: Dean King was born in Alberta over four decades ago and started fishing the Bow as a very young child. Dean especially likes fly fishing and tying streamers. Dean started working with us in 2008 and has been an extremely valuable addition to the O.F.F. team.
Patiently instructing anglers from beginners to the most seasoned veterans, Dean finds himself lucky to be able to refine his skills on waters as bountiful and challenging as the Bow. Dean's easy going nature and quiet enthusiasm are very appreciable attributes on the water.One thing is certain about a day on the water with Dean and that's that you can't help but enjoy yourself. Dean may have a bit of a dry sense of humor, but what a sense of humor it is (Josh says that if more of Dean's jokes weren't at his own expense I might like hanging around the guy). Dean is a welder by trade, and a very good one, but its almost entertaining to see how excited he is to be spending the day in a drift boat, its impossible for that enthusiasm to not be contagious.
Steve Luethi 

Steve has been a long time friend of Out Fly Fishing Outfitters.  He was once a client, he's been on numerous Hosted Trips around the world with us, having fished in 4 different countries with us as well as fishing with many of the guides and even doing fly tying demos at the Shop.  Steve is one of the most innovative and talented fly tiers we've come across or had the pleasure to work with.  He redefines the term "giant" fly and ties some of the most incredible big articulated flies you'll ever lay your eyes on.  His understanding of fish behavior, baitfish mannerisms, and how different materials will react in the water make his flies not only incredible to look at, but just deadly in the water. Steve is also an extremely talented and accomplished photographer, that does many shoots across the country and world with the Out Fly Fishing team. The man also knows his way around a fly rod and can chuck string with the best of sticks out there.
Steve took our first ever guide school and when you combined his skill set and personality with the work ethic and fish sense he has it was clear he was an absolutely natural fit for guiding.  Multiple seasons in now, Steve is a welcome face for many guests that look forward to spending a day on the water, learning laughing and making each day the best it can be.  Steve is from the Central Alberta area and although he spends as much time on the Bow as he can, still loves chasing trout around on his stomping grounds north of Calgary.  His knowledge of the Red Deer River drainage is exceptional.
Jason Noble

Jason began working with Out Fly Fishing outfitters in the late 2000's.  Jason started fishing with us as someone who had hardly touched a fly rod and very quickly became obsessed and did countless trips through his work with both customers and employees.  Jason quickly became a very familiar face in Out Fly Fishing boats and someone all the guides looked forward to taking out.  Even after purchasing his own boat he still did many guided trips with us until making the move into guiding in 2015.  Jason lives so close to the river that he spends countless days and evenings down on the water and has made his passion a part of his way of life now. In the last several years Jason has been one of our busiest guides, filling in on countless trips when many of our guides were forced to find other work during COVID closures

Jason is extremely patient and great with guests who are looking to learn and get into this incredible sport of fly fishing, and equally comfortable with experienced anglers and business travellers. 
George Samaha

We've known George for many years as George has been one of the organizers of the "Oilman's Float" put on by Calgary Petroleum Fly Fishers Association (CPFFA).  George had fished with many of us for years and so when George took the step into guiding in 2014 we were happy to have him, and his wealth of experience onboard. George has a real passion for the outdoors and enjoys sharing his knowledge with others. After being introduced to the sport he immediately fell in love with it. George is most at home when he is on the water and close with nature.
As a guide, nothing gives him more satisfaction than watching a client fall in love with the sport.  A native of Alberta, he is a strong advocate for conservation and protection of local Alberta Rivers and streams. In off times George ties flies, builds rods and if weather permits is out scouting different streams and rivers in southern Alberta.Whether you are an angler that loves to sight fish to big rainbows, or an angler that loves casting dry flies to hot eager browns, he is determined and eager to help you entice those fish with a well-presented fly. A day on river with George is a day of fly fishing you'll never forget.