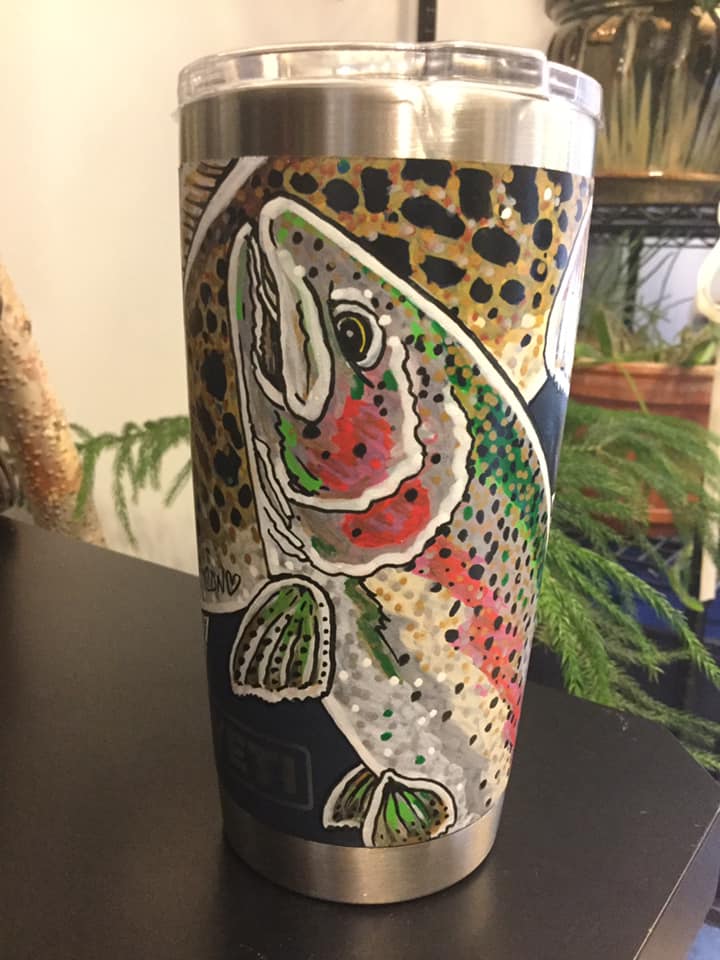 Custom Yeti Colsters for the BRT One Fly Tourney this past September ~CDN
Custom Painted Yeti Mugs?? What Whaaat?
It's been a little while since I did my first experimental Yeti Art Mugs this summer and we are pleased to announce that we will have some available for purchase in the shop for the holidays. I am working on an order now and you should see these start to show up on the shop shelves over the next few weeks. On deck we have greyling, brown trout, streamer mugs and more.
Three sides of a custom fly fishing montage bottle for a VIP ~CDN
If you have a custom fish, or pet, or landscape you'd like to see on a mug or bottle, reach out to me online @prairiepalette on IG or here at the shop. Here are some of the recent custom orders, including the mugs donated by OFF for the Bow River Trout Foundation's One Fly Tournament this fall, as well as some care instructions and FAQ ~ Courtney
Just two of the 20 oz Yeti Ramblers custom painted ~CDN
FAQ
Are these washable?
- Absolutely! Hand wash with soap and water but avoid the dishwasher. Dishwasher detergent is abrasive and will ruin the finish.
How are they finished? Is there a coating?
- Yes! They are heat set and then each mug receives two coats of resin based finish.
How long do they take?
- Each mug takes a total of 2 to 4 hours to apply the hand-painted design and 48 hours to fully dry.
Can you do one of my favorite fish?
- For sure, and if you have photos from a memorable moment or special catch, I am happy to work from those.
Do you have more examples of other mugs you've made?
- Yes, all my work can be viewed on Instagram @prairiepalette, or come by the shop to see examples first-hand.
How do I get one!?
- Pick up one of the custom painted mugs on hand at OFF Fly Shop, or get in touch with Courtney @prairiepalette to place a custom order. 
Best day Mug for the BRT Tourney ~CDN
Brown trout face custom painted this fall ~CDN
---