Eight Go-To Streamers for Alberta Bull Trout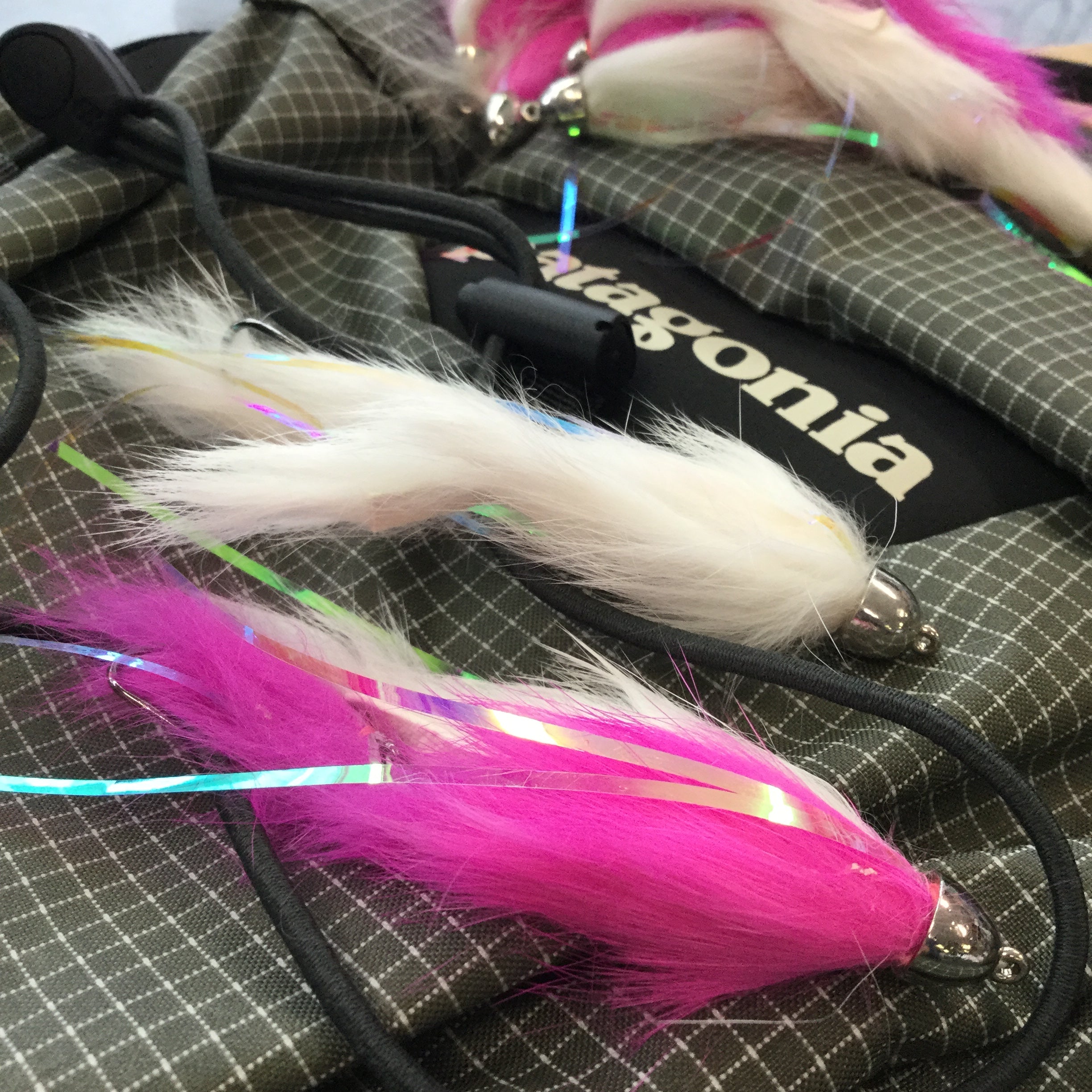 Fishing for bull trout here in Alberta can be loads of fun - to me there's nothing quite like the streamer bite... I love it!  Opportunistic feeders, bull trout lurk under shale shelves and plunge pools, ready to smash food as it comes along.
Plunges like this one often hold a fish or two ~ Photo by Courtney Neal
Often, the most difficult part of angling for bulls can be simply getting the fly deep enough to get a bull trout's attention. In most small stream situations I like to fish weighted streamers, which allows for either a stripped or a dead-drift presentation. If I'm headed to the mountains to explore, I will take a streamer rod along just in case the opportunity to chuck some meat comes along. From smallest to largest, these are the eight streamer patterns I'll make sure I have in my fly box:
(You can click on the pictures of the flies to see all the colors available in each of these patterns, or to purchase them)
#1 - Mini Leech - White - Size 10
Small but effective. Don't underestimate this little pattern. The red and white combo is a classic, perfect for fussy cutties and bulls in shallower water.
Mini Leech with RYW Native Bull Trout Hat and a Southern Alberta Backroads Mapbook 
#2 - Kreelex Minnow - Various - Size 4
This is the fly I throw on when nothing else works. Obnoxious and irritating, this thing will get a fish's attention. I like purple and silver, but there are any number of other color combos that will work. The ones we sell in the shop here are locally tied.
Purple/Silver Kreelex Minnow and Southern Alberta Backroads Mapbook
#3 - Strolis' Single Ice Pick - White - Size 2
The perfect combination of fur and flash, featuring a Baitfish Head from the fellas over at Fish Skull, this streamer looks great on the strip. Magnum rabbit body and tail are perfectly barred and look like a fat little whitey in the current.
White Ice Pick on the redesigned Patagonia Hybrid Pack Vest, NEW for 2018
#4 - Murphy's Miracle Mile Peanut - Orange - Size 4
Two hooks, barred floss and articulated action make this mini-peanut a wiggly wonder in the water. We also stock it in olive, but I find the orange is very effective for bulls in streams towards central Alberta and when the water is a bit milky. 
Murphy's Miracle Mile Peanut in Orange with the Airflo Head Wallet
#5 - Keller's Nightmare - Light or Dark - Size 6
Fish Skull Sculpin Helmets give this fly the weight you want when trying to present to fish tucked in deep. Articulated with one rear hook, the hook shank is wire-wrapped for extra durability. 
Keller's Nightmare and the best page in the Southern Alberta Backroads Mapbook
#6 - Kelly Galloup's Circus Peanut - Black or White - Size 4
About as bare bones as you can get in a big articulated streamer, I like the black with purple and the white with red, but you could certainly tie combos with pink or orange that would be effective. This fly is best on a six weight plus, and is appropriate for trophy sized bull trout. Another locally tied favorite of mine!
Kelly Galloup's Circus Peanuts with FishOn Energy Co. Hat
#7 - Kelly Galloup's Articulated Silk Kitty - Black or White - Size 2
A meatier option for trophy bulls, and the action in the water is superb - chrome-flecked rubber legs and flashy body get 'em interested. Heavy eyes add weight and I like to fish this fly with short strips to get the most movement out of the materials. 
That Kelly Galloup sure designs some great streamers! Silk Kitties w/YETI Roadie 20
#8 - Dali Lama - White or Pink/White - Size 2
While this fly was originally created for steelhead and dolly varden, it has been incredibly effective for me for bull trout in addition to browns and rainbows on the Bow River in some of the other colors we carry. It's like a souped-up double bunny, with an intruder-like tail hook, opal flash and a monster conehead for weight. Try the pink and white combo the next time you find yourself out West on a bull trout stream, you won't regret it!
Dali Lamas, freshly restocked and in store now!
These are all streamer patterns we carry at the shop and we even have the stuff to help you tie some of your own. Just this past Thursday night we featured the Circus Peanut for our regular Drop In Fly Tying Class here at the shop and we had a great turn out. What I love most about a lot of these is that they are versatile patterns that will work for a variety of species in a variety of places and anytime I can get a fly that does double or triple duty then that's the epitome of economy in my books. That's my list. There are lots of other streamers out there that work very well, these are just my top picks. What's your top pick for bull trout?
Author's note: "Why aren't there any photos of bull trout on this post?" Great question - it's because unless I can get a good photo of a special bully in the water while I'm out on my own, I'm probably not going to get a photo. Bull trout are a sensitive species and while it's fun to get out and fish for them, they are almost always zero-retention and I'm going to do what I can to minimize my impact. Pinch your barbs or fish barbless hooks, keep the fish in the water and keep the time spent playing the fish to a minimum. If it's a special fish and you want a photo, a well-timed lift and snap is best so the fish is returned to the water as quickly as possible. That catch and release, #KeepEmWet movement is catching on and I want to support that.
---