Fly Tying Nights are Back! 2023/24 Thursday Night Fly Tying Schedule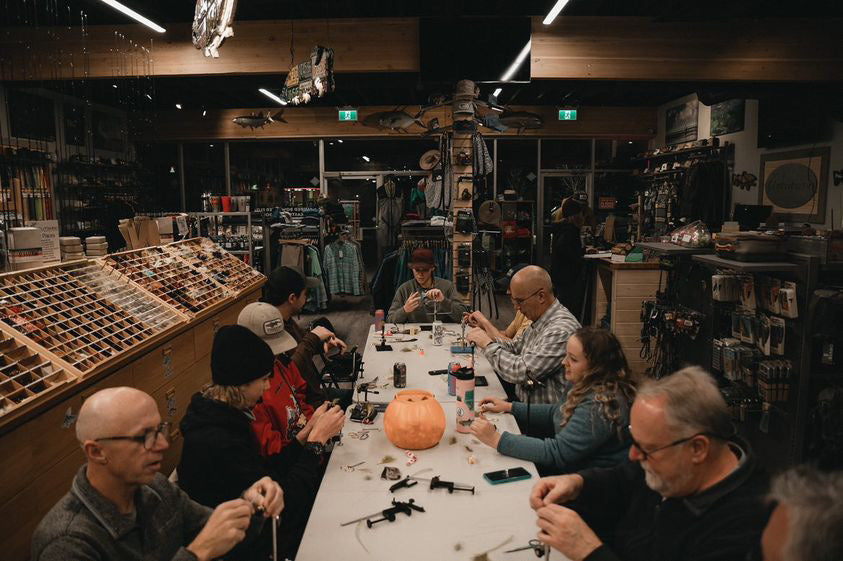 We're super excited for our 9th season of hosting Fly Tying Nights every Thursday through the Off-Season.  We've got a bunch of great Fly Tier's lined up, both local and abroad, as well as our extremely talented shop staff that are unbelievable tiers and teachers.  
Each week we cover either 1 pattern, or one technique (such as spinning deerhair, or tying parachute posts) and we will supply and have all the materials needed for everyone who is coming. As always we provide all the materials, just show up with your vice and the instruction is completely FREE, we simply split the cost of materials between everyone present.  It usually works out to something between $2 & $6 per person.
All experience levels are welcome, and for anyone looking for more individualized classes we also offer Fly Tying 101, 201 & 301 courses (found in the menu bar of our website)
Thursday Night Fly Tying Schedule for 2023/24
Thurs Nov 9th: Winter Nymph Patterns with our own Ty Smith
Thurs Nov 16th: Bull Trout Game Changer with Jeff Thompson of Bait Bucket Flies
Thurs Nov 23rd: Trout Spey Dolly Lama with our own Alec Dollimount
Thurs Nov 30th: Trout Streamers using Wiggle Tails with Shane Bear of Bear Fly Co
Thurs Dec 7th: Tungsten Jig Sculpin (learning to tie with brushes) with our own Ty Smith
Thurs Dec 14th: Fly Tying Night Christmas Party & Christmas Tree Flies (Learning to spin deerhair) with our own Ty Smith & Alec Dollimount
Thurs Dec 21st: Christmas Break
Thurs Dec 28th: Christmas Break
Thurs Jan 4th: Christmas Break
Thurs Jan 11th: Tying Nights Resumes
Thurs Jan 18th:  Foam Hopper with Quinn from Quinns Fly Tying
---