Our #Flies4Kids Campaign is Back! Help us send out more FREE flies to kids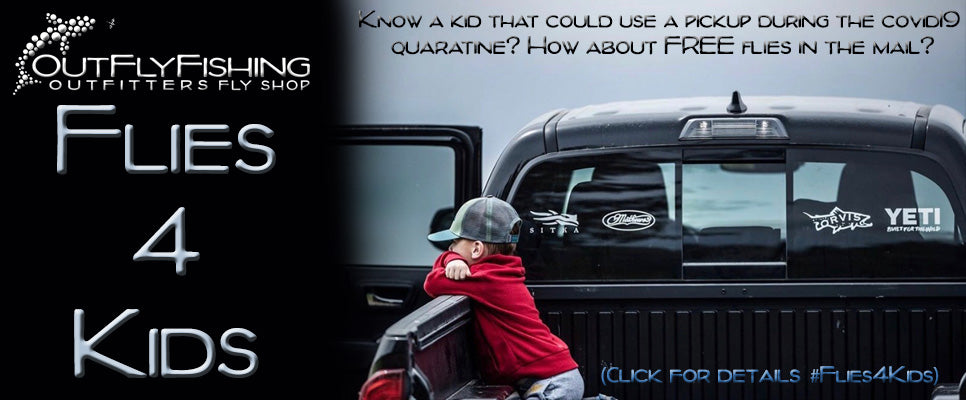 Our #Flies4Kids was such an incredibly successful campaign with close to 100 dozen FREE flies mailed out during the spring closures, that we wanted to bring it back!  Some Provinces, towns and regions have returned to lockdown, so we chose to bring back our #Flies4Kids
Quarantines and lockdowns are understandably hard on kids, but do you remember how exciting it was to get mail as a kid? As an adult, mail usually just means more bills, but remember how exciting it was to find out there was mail for you when you were young? So we need your help to make that happen. Let's make sure we find more kids to receive a FREE package of flies from us at #OFFflyshop 
Here's what you need to do to nominate a kid:
1) send us your nomination selection in 100 words or less (you email us at info@calgarysflyshop.com or send us a DM-direct message on our IG or FB Profiles)
2) That's it
-No need to share the Instagram post (but the more kids that find out about it the better right...?)

Since launching the #Flies4Kids campaign the outpouring of support has absolutely blown us away. The amazing stories of kids and what they're dealing with, the elation and appreciation from parents at the news they have something special for their kids coming, and the incredible generosity of people in response to this. Our staff has been incredible packing the flies and making the care packages for each of the nominated kids and not to be outdone our guides stepped up to the plate and absolutely knocked it out of the park. Many of our guides are used to being as busy as they want to be, or busier. The reality and uncertainty of the situation we find ourselves in means the reality is we might not be busy and could potentially not even have a guide season this year. Since they realize we likely won't be as busy as they're used to, every single guide I've spoken to so far all offered to do a free guided trip for these nominated kids. Each week through the quarantines one of the nominations will be selected to get a free guided trip for them and a parent or friend once it's permissible to resume guiding again this summer. If having a float trip to look forward will give some kids something to look forward to and to be excited about, at a time like this, then it's all worth it.  
Our local Hardy rep @welovehardyfyfishing has swagged out the campaign making sure we have all sorts of Hardy goodies to send to kids as well. 
We may be in very uncertain times and uncharted territory, but it's times like this that we see true character emerge and the human spirit shine so brightly through. We're all in this together and if we can spread a little happiness and a little hope through one kids smile at a time, that's a good thing. From all the staff and guides at #OFFflyshop, Stay healthy and stay safe everyone.
---