Thursday Night Fly Tying is Back Again!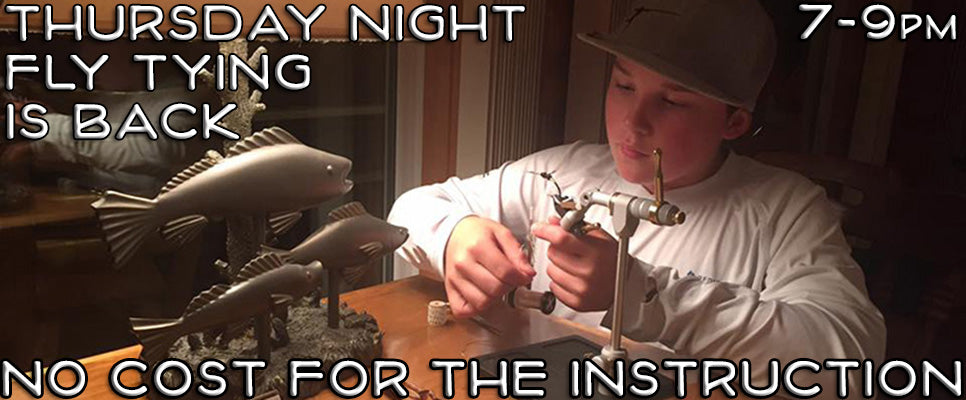 After our regular summer hiatus Fly Tying Nights are returning once again.  Just like we've always done, since taking over the shop 5 years ago, they'll be Thursday Nights from 7-9pm. 
Fly Tying Nights are open to everyone and are suitable for everyone from beginners to advanced fly tyers.
There is No charge for the instruction and we'll provide the materials and just split the cost of materials between people (typically $2-$6 a night).
The Fly Tying Schedule for 2019 is as follows:
Nov 7th: Bull Trout Streamers
Nov 14th: Pike Flies using Wiggle Tails and Dragon Tails
Nov 21st:  Mangum Mini Dragon Tail Bull Trout Streamers
Nov 28th: Hackle Techniques for Dry Flies
Dec 5th: Tungsten Jighead Flies
Dec 12th: Steelhead Intruder Flies
Dec 19th: Christmas Fly Tying Night and Party
Dec 26th: Christmas Break No FLY TYING NIGHT
Jan 16th: 
Jan 23rd: Trout Streamers for Swinging
Jan 30th: Jig Heads Flies presented by Flo Besson of Flow Fly Fishing
Feb 6th: NO TYING (Come visit us at the Calgary Boat & Outdoor Show)
Feb 13th: Bonefish Fly Night
Feb 20th: Perdigon Nymphs
Feb 27th: Gamechanger
Mar 5th: Increasing your speed and efficiency when tying
Mar 12th: Spinning Deerhair
Mar 19th: Deerhair techniques
Mar 26th: Balanced Flies
Apr 2nd:
Apr 9th:
Apr 16th: TBA
Apr 23rd: TBA
Apr 30th: Belize Flats School Tying Night
May 7th: Pike Night
---