Best Images and Moments of 2017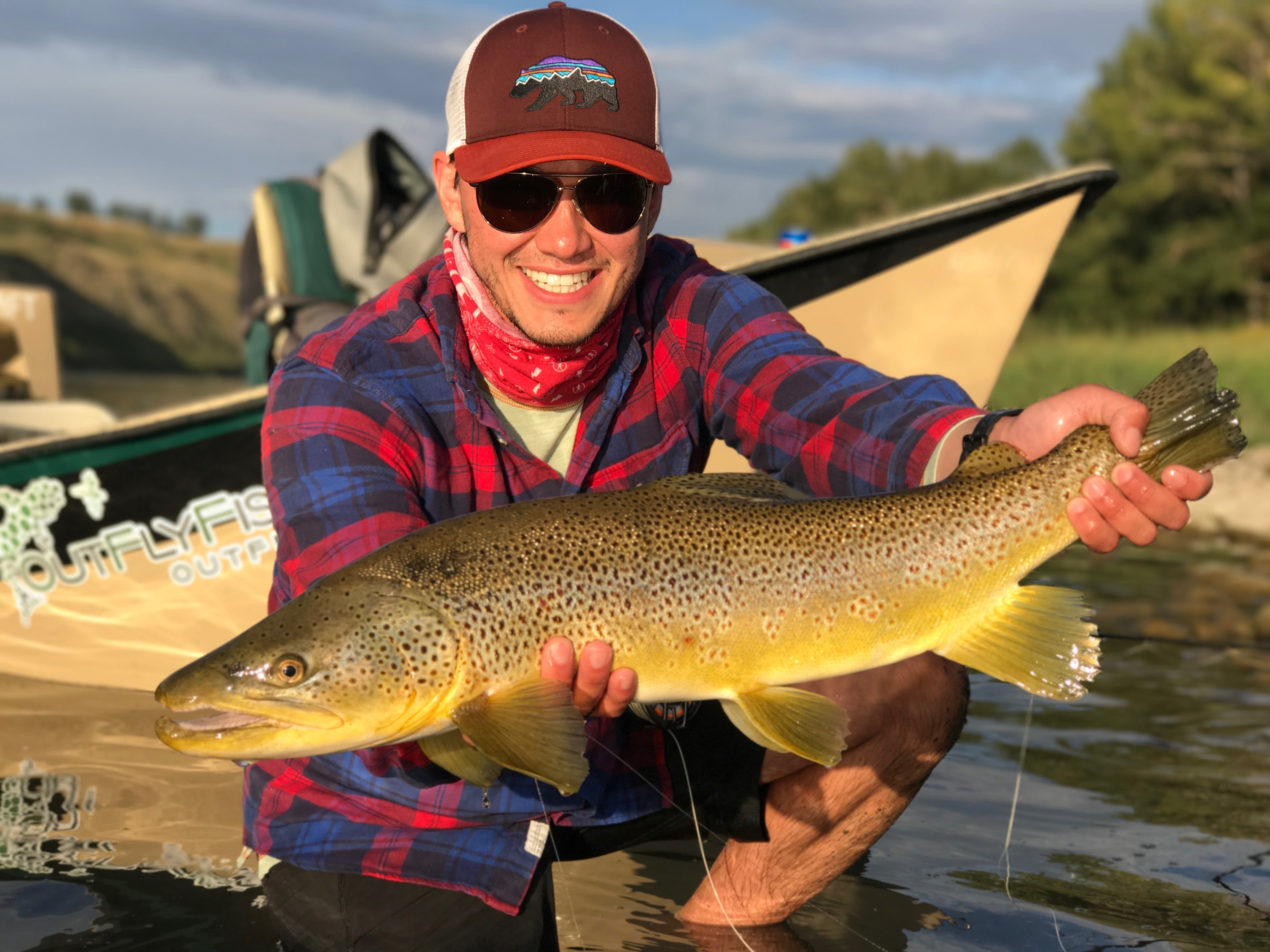 It's hard to believe 2017 is almost over, but what an amazing year it has been!  Thanks to all of you the shop was the busiest its been and we had the busiest year for guided trips we've ever in our 15 years of running the Guide Service.  We confirmed several new Hosted Trip Destinations and got to fish 7 different countries by the month of June.
As we get ready to ring in the new year we want to thank each and every one of you for making 2017 such an incredible year to remember.  We hope you enjoy this walk down memory lane in the year that was 2017!
1) Filming Sails in Costa Rica
Its been many years in the making but we finally concluded the filming of our Sailfish piece and got all the details taken care of for our 2019 Sailfish on the Fly School
2) Giant Peacock Bass on Poppers in Colombia 
 Several of the OFF Fly Shop Team have caught Peacock Bass in Florida or Brazil but this was our first trip to Colombia.  A very successful trip that included this gorgeous Peacock Bass on a Popper
3) Not to be outdone by the Peacocks Colombia's Payara were Absolutely Amazing
Payara have long been near the top of many of our freshwater bucketlists here at CalgarysFlyShop.com and this trip not only gave us the opportunity to check off Payara off the list but they gave us so many reasons to come back.  With the number of giant Payara, that would be very close to world record class, we hooked that either spit the hook, bit us off, or broke us off, you can guarantee we'll be back for more.
4) Golden Dorado in Argentina
Another amazing bucketlist trip was getting the lodges we wanted to work with in Argentina all sorted out.  After visiting 3 lodges and speaking with several other we couldn't be happier to be heading back in February (17-24) of 2018 for our Argentina Golden Dorado Hosted Trip with Golden Fly Fishing.  Golden Dorado are at the top of many anglers bucketlists and for good reason, they're an absolutely exceptional fish that are ideally suited to pursuing on the fly.  These Dorado were some of the most amazing fish we've ever laid eyes on, let alone just in 2017. Photo by shop staff Courtney Neal @prairiepalette
5) Giant Pacu and the Golden Fly Fishing Grand Slam
Pacu are such interesting looking fish.  Shaped like a permit and with human looking teeth these omnivorous fish are just incredible.  To finally land one was incredible, to get their largest Pacu of the season that gave me line burns that went through the stripping guard and then drew blood and almost blew up the rod half a dozen times was just epic!  To then get a big Pira pyta that same day and a Dorado to complete their Grand Slam made it that much more special. Photo by shop staff Courtney Neal @prairiepalette
6) New Northern Pike PB
After having a giant pike follow 3 casts in a row I changed flies.  The same pattern just a yellow & red version instead of black & blue.  First cast a decent pike inhaled it without any hesitation and I was devastated because it was a fraction the size of the fish that had followed 3 casts in a row without eating.  It was clearly a decent fish, but dwarfed by the fish that had been following that hadn't eaten.  I was disappointed enough with the size of the fish that I didn't even end the phone call I was on until I had the fish to hand.  When taking the quick pic it was clear it was a good fish but I still couldn't get my mind off the bigger fish I was hoping was still in the area.  I measured the fish against the rod and released it quickly with the hopes of enticing the larger fish to come back. I never saw any sign of that bigger fish again but that night when I measured the mark on the rod I was a little stunned to see I'd been holding a 47.5" pike that I didn't even take the time to truly appreciate because my mind was so preoccupied with the bigger pike.  This fish beat my previous PB by 1.5" and I didn't even realize it until hours later that night.
7) Colin's new PB pike
The morning after landing my PB pike I was joined by Colin and Gibson. Not even 24hrs after my PB pike Colin landed a true giant of 48.5"  In 24hrs I'd landed a 46" and a 47.5" and Colin landed the first legit 4 footer I'd put hands on.  3 pike over 46" in under 24hrs, and numerous others over 40" made for an unforgettable 24hrs.
8) Florida Keys Tarpon
In May I returned to visit my good friends down in the Florida Keys.  They spend a couple months in the Keys each year (May/June).  Tarpon are one of my favorite fish to chase and being on my buddy "Tarpon Dave's" brand new boat was great.  Getting some of my favorite tarpon jumping photos aboard his new Chittum Skiff made it that much sweeter
9) Cuba
Cuba has and will continue to hold a special place in my heart.  The Live A Board Trip we went down on in June did not disappoint.  After being on the first exploratory trip to this destination the previous year with our good friend Richard French, we were very pleased to see how dialed the guides had this incredible juvenile Tarpon fishery.  Client and friend Tim K from Australia had some great shots and hooked a bunch of tarpon but they kept getting the upper hand.  It was so satisfying to see him land his tarpon and be able to get some cool underwater shots of one of these great fish. 
10) Sportfishing on the Fly Shoot & Dale's Monster Cutty
In July we had the chance to guide Don and Dale Freschi of Sportfishing on the Fly while they filmed 3 shows with us in AB.  Many incredible fish were hooked and many of the biggest fish on the Bow kept managing to get away, but while filming in the mountains Dale had an incredible day landing multiple cutthroat and cutbows over 20" including this extremely impressive fish
11) Naoto Big Bow River Browns on Foam
2017 was easily the best year we've ever seen for big trout on the Bow river eating big foam. Stoneflies all through July into August and then Hoppers through August into September. One of the hardest parts of guiding is seeing guests lose giant world class fish that you know want those fish so badly.  We'd never seen so many 25-possibly even 30" fish consistently eating on the surface and doing so throughout the entire day.  Naoto had a few early morning floats that wrapped up earlier than usual and took the chance to take some friends (Aaron & Logan from Rock House Motion) out for evening floats.  After Aaron and Logan experienced the same woes of losing some of these beasts they made Naoto do some fishing.  He managed to land a number of these world class beasts that so many people had longed to hold.  Congrats on some epic browns on foam dries bro! Photo by Aaron Hitchins of Rock House Motion
12) Matthew's Big Hopper eating Bow River Brown
 This day will likely go down in Matt's fishing Hall of Fame moments.  I was guiding before sunup and had clients that needed to be off the water early and go straight to the airport from the take out after floating Police to Mac.  Fishing with the clients that morning was epic.  One of my guests landed a 24" rainbow, that despite having big shoulders and being an impressive fish, looked like it could've been swallowed in 1 bite by 2 giant browns he broke off and another fish that still dwarfed that 24" bow.  The river was fishing so well, and I was off so early I had called Colin to meet me at Mac and hop in and fish from there and we told Matthew to meet us at Legacy Island as soon as he finished working at the shop.  As luck would usually have it the river went from being on absolute fire while I was guiding to epic levels of suck when Colin started fishing.  It was fishing so poorly Colin wanted to row instead of fish.  We rowed through 1/2 that stretch to be able to pick Matthew up on time and then everything change for Matt.  Probably less than 4min into Matthew's float this giant brown absolutely destroyed Matty's brown and then launched itself into the air!  The excitement in the boat watching Matt fight that beast and then netting Matt's largest brown on a dry fly was pretty sweet.  26.5" bow river brown on a hopper is nothing to scoff at.  Needless to say Matt was on the oars the rest of the float! lol And you guessed it, once I got to fish the river shut right down... lol  
13) Akasha's Waterfall Bull Trout on a Dry Fly
 Big fish are not always the most memorable fish.  On this day fishing a gin clear pool at the base of a water fall I hadn't fished in almost 15 years with our Hosted Travel Manager Akasha Bopp, and a juvenile bull that smashed a green drake on the surface before posing for this under water housing shot.  The gin clear water, the water fall behind Akasha and a bull trout on a dry fly made this a very enjoyable and memorable shot, despite the undersized bull.
14) Fly Fusion
In September we were able to guide on another shoot, this time with the Fly Fusion TV crew.  We had the pleasure of guiding local legend Jim McLennan and Fly Fusion Editor Derek Bird for a week.  Stay tuned for updates on when Season 3 will air.
15) Dana netting a Downtown Brown for Akasha at the Peace Bridge
This photo is a catch 22 for me.  Its one of my favorite shots from this year that truly captures a moment in time and the excitement and enjoyment of a couple of guides having fun on a day off.  Its also such a fail for me since I shot this on my iPhone instead of any one of the 3 DSLR's we had in the boat, or the high speed video camera $30K in high end camera equipment in the boat and I get this image on a phone instead of an SLR where I can blow it up and work with it in large format....#FAIL  lol.  Oh well
16) Redfish in LA
A big bull Red has been on many of our bucketlists for a long time and in October I was given the opportunity to come down and shoot photos for long time friend Richard French of Slipstream Angling (who we host many of our trips through and filmed the Fly Nation Cuba episode with and the Destination Spain TV series with).  Steve Gardner, our Hardy Rep, joined us on this trip as well.  The first day we got rained out and couldn't leave the live a board boat due to heavy thunderstorms and lightning, which was obviously a little disheartening.  Day 2 started off much better with Steve getting a 17lbs fish followed by a 20+ lbs bull red that made his trip.  These were the first 2 big redfish our guide had seen that fall, as it was the beginning of their peak season.  The one miniture 5 lbs fish I'd hooked was feeling pretty insignificant compared to Steve's fish but literaly as our guide started saying, "sorry boys but I think its time to call it a.....Josh there! Big fish. Big Fish!!!! Cast! Its Fing HUGE!" Landing 3 bull reds over 15 pounds and 2 over 20 on our first day we got to fish certainly made the wait worth while.
17) Musky on the Fly in Ontario
There is no large fish that has eluded me as well as a big musky. Before this trip in the fall I'd only spent 50+ days chasing musky, and in all those days I'd never landed an even respectable musky, despite having very good number of upper 40" and 50"+ musky follow my fly right to the boat. I'd only had one decent musky (mid 40" fish) eat my fly that I'd lost. Nick Pujic and Mike Mcnaught have both put me on countless big musky but I hadn't sealed the deal on anything but baby musk, but my luck changed on this trip. 
The first day I landed two 42" musky, which were both respectable fish, this 40" fish the next day and in the week of fishing Steve and I landed 6 musky and we even had one 2 hr window where we hooked 6 musky but one landed the one that Steve kept buttoned! This was Steve's first musky trip so its hard to explain how much of a grind musky fishing can be when he managed to hook a musky everyday but one that we were there.  Trips like this keep you coming back though.  Photo by Steve Luethi
---