Calgary's Fly Shop Presents our Artist Series Showcase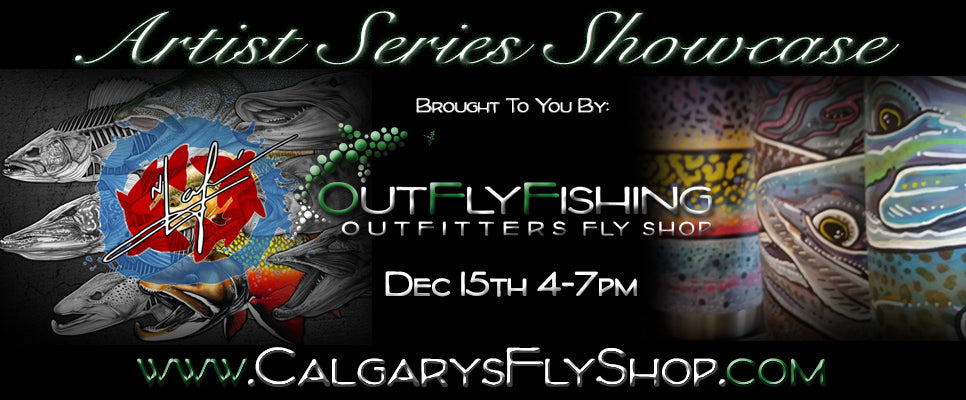 Out Fly Fishing Outfitters Fly Shop is extremely excited to announce our Artist Series Showcase.  On Sunday Dec 15th we'll be converting the Fly Shop into a Fly Fishing Art Gallery.  We'll be bringing in some exceptional Fly Fishing artists such as the award winning Nick Laferriere and our very own Courtney Neal from the OFF Fly Shop that does all the custom artwork on the Yeti cups.
We'll have wine and cheese and opportunities to watch each artist in action as well as ask questions about their work.  Learn about their artwork and what inspired them.
When: Sunday Dec 15th 4:00pm-7:00pm
Where: OFF Fly Shop #109 9919 Fairmount Dr SE, Calgary, AB, T2L 1W8
Cost: FREE but please RSVP to info@calgarysflyshop.com or call 403-278-6331
Artists Being Showcased:
Nick Laferriere
Hailing from the prairie region of central Canada, Nick was raised in the country surrounded by nature. His passion for art started at a very young age with countless hours spent scribbling pictures and getting lost in his works.
"I remember vividly drawing silly hand art with little characters battling it out on a battlefield which was constructed from my hand outline. I'd get lost in my own world and even go as far as creating sound effects. I was a strange little boy…."
Early childhood for Nick was spent mostly outdoors. Fishing with his father, playing in the mud, collecting insects, the sad part of Nick's day was coming in for dinner and washing his filthy hands. His passion for the outdoors was etched into Nick's life at a very young age from his parents.
"I'm eternally grateful for the way my parents raised me. I absolutely love the outdoors and will one day pass this on to my future children."
Many of his hours were spent tracing birds and animals from library books. Eventually he'd traced so many birds that he no longer needed to trace them.
"I can remember begging my mom to take me to the library so I could get some fresh new books to draw from, always leaving with more books than I could carry! I couldn't wait to get home and get to work! I would not only draw birds and animals but I'd also read everything I could about each one. At a very young age I could name nearly every bird in North America and identify many by just their songs."
With no formal training in art, Nick learned through trial and error and discovered techniques on his own that best allowed him to achieve the outcomes he desired.
"I had applied for Art School and got accepted and it was one of my art mentors, Owen Garrett, who convinced me otherwise. He stressed the value of being able to say that I am a self-taught artist and that having a piece of paper saying that I'm qualified to be a professional artist isn't worth the time or money."
Although Nick has tried all forms of mediums, his passion lies with pencils, both graphite and watercolour.
"I've tried painting, it was ok, but I always found greater joy out of drawing with pencils. I find I have better control and I don't even have to think about what I'm doing, my hands know what to do on their own when a pencil is present."
Recently, Nick has been inspired to pick up paint brushes once again with a piece he calls "Running the Gauntlet", inspired by his fishing experiences in the interior of British Columbia.
"My first go at acrylic painting in a long time, inspired by my late grandfather, Jack Sutherland. I inherited painting supplies and decided to build a frame and dedicate this piece to my grandpa. I've really enjoyed working on this piece and I'll pitter patter at it everyday for a few minutes. It's nice for a change not having a deadline and to be able to just let the creativity flow naturally. When we first moved out to British Columbia, it was incredible to see the bright crimson Kokanee Salmon in the rivers and their nemesis, Bull Trout, lurking in the shadows waiting to pick them off. This piece is inspired by the experiences in the local glacial fed rivers."
Courtney Neal

Courtney Neal has been responsible for the chalkboard art in the shop for almost 5 years now, and last year she started putting her custom artwork onto Yeti cups and selling them from the shop.
A question we get often in the shop is "who does your chalkboard?" Well, it's Courtney, - resident glass rod aficionado, mocaccino fiend and lady angler chalkboard artist. Lately she has been painting and drawing a ton and it has been great to see her flex those muscles after a long time away from the paintbrush and pen. Art and drawing has been an interest of Courtney's since before she could remember, and while she has no formal training, visual creativity is an inherent trait that runs in her family.
A recent acrylic, painted from a photo I took during our shop trip to Cape Breton October of 2016 - "Steve's Hen" By Courtney Neal @prairiepalette 
"Throughout my life I have drawn and painted different subjects and experimented with a variety of media, but I have always gravitated towards nature and animals as subjects. Drawing fish on the chalkboard here in the shop is simply a natural extension of my interests and has been instrumental in prompting my creative juices of late. As for where the ability comes from, I don't know how exactly it is that I can do this, but despite that I guess one could say I come by it honestly. Stay tuned to IG @outflyfishingoutfittersflyshop and @prairiepalette to see what comes next!"  -Courtney Neal
Santa's Day Off - Chalkboard Christmas 2017 by Courtney Neal @prairiepalette
Drift Boat Santa - Chalkboard Christmas 2016 by Courtney Neal @prairiepalette
Super Grand Slam - Chalkboard May 2016 by Courtney Neal @prairiepalette
Never Forget - Chalkboard November 2017 By Courtney Neal @prairiepalette
---