Origins of A Fly Shop Chalkboard Artist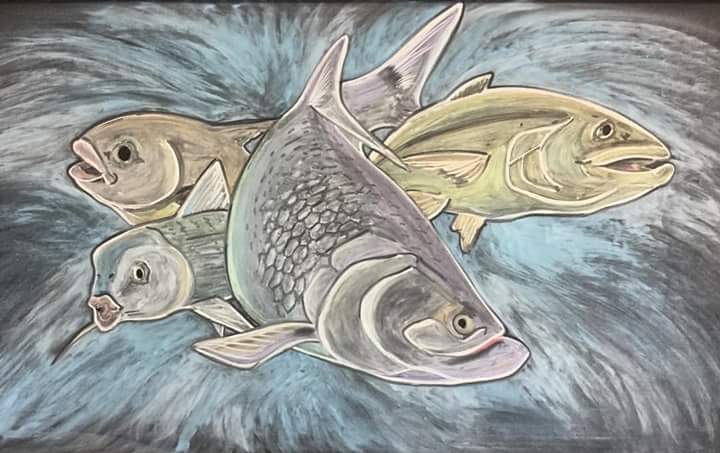 A recent acrylic, painted from a photo I took during our shop trip to Cape Breton October of 2016 - "Steve's Hen" By Courtney Neal @prairiepalette

A question we get often in the shop is "who does your chalkboard?" Well, it's me, Courtney - resident glass rod aficionado,

mocaccino fiend and lady angler chalkboard artist. Lately I have been painting and drawing a ton and it has been great to flex those muscles after a long time away from the paintbrush and pen. 

Art and drawing has been an interest of mine since before I can remember, and while I have no formal training, visual creativity is an inherent trait that runs in my family.

 
First, let's go waaaay back. The American Civil War painter, Archibald M. Willard (1836-1918), is a distant relative of mine on my mother's side. Willard's talent developed as he served in the 86th Ohio Volunteer Infantry during the Civil War, drawing that which he saw on the battlefield. His most famous work, the 8 x 10 foot oil painting, "Spirit of '76", depicts three men marching and a soldier on the ground during the American Revolutionary War. Willard painted the original work to commemorate the US centennial in 1876 and went on to create somewhere between 18 and 26 somewhat smaller copies for family and friends in watercolor and other media. Originals and copies are worth hundreds of thousands and even into the millions of dollars today. The USPS turned this work by Willard into a strip of three 13-cent stamps in 1976, highlighting the 13-star US Flag shown in the background and commemorating the US bicentennial.
Photograph of a copy of "The Spirit of '76" (Yankee Doodle) by Archibald Willard ca. 1891 - http://www.ohiohistorycentral.org/w/Archibald_Willard
While only a distant relative, it can be surmised that Willard's artistry has genetic origins which have been gifted to us in the here and now. Both of my parents and grandparents are talented artists in their own right. My mother Wanda loves to work with textiles and watercolors, and she channels her creativity into garden design and other artistic pursuits through her business, Nature Maiden Design at 
https://www.houzz.com/projects/users/wandanator
. 
My father Wayne has an exceptional eye for composition and has turned that ability into a collection of mountain and prairie scenery captured with his Nikon. He shares his knowledge of photography with the members of his camera club and his love of nature with us all through his photographs. A collection of his work can be viewed on Flickr at 
https://www.flickr.com/photos/wbnealphotography/with/14652945209/
"Pyramid Mountain Sunrise" by Wayne B. Neal
Throughout my life I have drawn and painted different subjects and experimented with a variety of media, but I have always gravitated towards nature and animals as subjects. Drawing fish on the chalkboard here in the shop is simply a natural extension of my interests and has been instrumental in prompting my creative juices of late. As for where the ability comes from, I don't know how exactly it is that I can do this, but despite that I guess one could say I come by it honestly. Stay tuned to IG @outflyfishingoutfittersflyshop and @prairiepalette to see what comes next!
Santa's Day Off - Chalkboard Christmas 2017 by Courtney Neal @prairiepalette
Drift Boat Santa - Chalkboard Christmas 2016 by Courtney Neal @prairiepalette
Super Grand Slam - Chalkboard May 2016 by Courtney Neal @prairiepalette
Never Forget - Chalkboard November 2017 By Courtney Neal @prairiepalette
---