Hardy Zephrus - "Fire and Forget for the Fly Angler"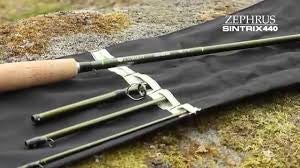 I don't have many new year's resolutions. There's the requisite eating better, going to the gym, and getting better sleep. And then there's my most achievable goal; to cast every fly rod in the shop. I've crossed a fair few off the list already, but at the top of what remains is the Hardy Zephrus.
Tied for third out of 30 rods tested at the 2016 Yellowstone Angler's 5-weight shootout, Hardy's new Zephrus series of fly rods offers the angler superb recovery and excellent line control.  Here in Calgary, we can look forward to the five and six weights of this rod being an excellent choice for fishing larger water like the Bow. Available in both a fresh water and an all-water design, the Hardy Zephrus features:
Super secret proprietary Sintrix 440 blanks
REC Black pearl recoil guides
Fuji Titanium stripper guides
Fast action ideal for medium distance casting
Selected Hard wood (FWS) and Triaxial carbon (AWS) spacers.
Watch Hardy product manager Howard Crosston introduce the Hardy Zephrus below, or come by the shop and see these beauties for yourself. Purchase a Hardy Zephrus between January 1st/2017 and March 30th/2017 and be eligible for a $50 mail-in rebate. See in store at #CalgarysFlyShop for details!
---