Join Our Team! We're Growing & We're Hiring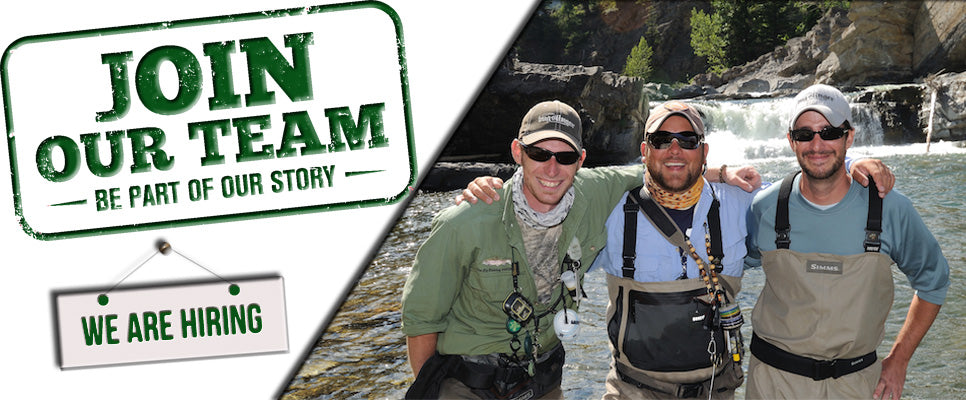 Sales Associate – Full time
Job Location: Out Fly Fishing Outfitters Fly Shop, Calgary AB
Company Overview:
Our goal is to create a memorable and lasting relationship with our customers and to make them feel welcome in our shop and the sport. We have an incredible team that thrives on new ideas and are constantly improving and growing.  Our company is growing quickly, we are looking for enthusiastic and motivated people to join the Out Fly Fishing team.
Working at the Fly Shop will provide you with:
A fun, challenging, and fast-paced work environment
Interactions with like-minded team members
Opportunities to develop and improve interpersonal and skills
The opportunity to develop relationships with likeminded fly-fishing enthusiasts
On the job training to ensure your product and fly-fishing knowledge
The chance to learn from and network with fly fishing guides and industry leaders
Access to a significant employee discount
Responsibilities
Members of our sales team will be responsible for direct fly-fishing equipment and fly-tying material sales, answering phone calls, answering and curating emails, as well as developing and maintaining strong lasting relationships with the shops diverse customer base. A great sales associate should convey confidence and enthusiasm while helping the consumer navigate fly fishing products and educating them on techniques and tactics.
We initially provide on-job industry training, but a successful candidate will learn about the fly-fishing industry naturally through personal initiative. Responsibilities also include assisting in-store operations by making positive recommendations for new products, price adjustments, and beneficial changes to store processes and procedures. The organization and merchandising of stock are responsibilities as well as assisting with opening and closing duties.
With our online presence constantly expanding this role will also include online order fulfillment for customers utilizing our website for deliveries as well as in-store and curbside pickup.
Prior knowledge of the fly-fishing industry is considered an asset; however, it is not required.
Job Qualifications
Positive, outgoing, proven customer service personality
Knowledge of current fly-fishing products, technology and industry trends
Comfortable communicating and performing within a team environment
1-2 years of previous sales experience is an asset
Experience operating basic point of sale systems
Experience with computers and programs such as excel
Ability to remain calm and level-headed in stressful situations
Strong written and communication skills
Well organized with the ability to prioritize tasks
Strong time management skills
An interest in fly-fishing
If you are interested in this opportunity, please apply via e-mail or call the shop/apply in person: info@calgarysflyshop.com
Job Type: Full-time
Schedule:
8-9 hour shifts
5 Days/week
Experience:
Retail: 2 years (Preferred)
Sales: 1 year (Preferred)
Fly Fishing: 2 years (Preferred)
Work remotely: No
---