O.F.F. Fly Shop's 12 Days of Christmas Gift Ideas for Fly Anglers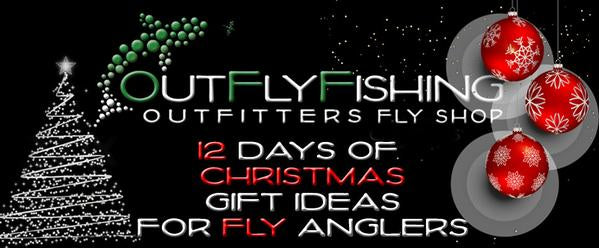 Well its back by popular demand, our 12 Days of Christmas Gift Ideas for the Fly Angler on your list!  We'll add a new item each day through the 12 days of Christmas.  We're happy to help you out on ideas, just promise not to question our sanity with the connections we're drawing from the original song!
On the 12th day of Christmas my true love gave to me...
12 drummers drumming, one for each month of the year. Assign your monthly drummer with one of the several 2019 calendars in store now. Included in the assortment are Trout of North America, Saltwater Angler and McLennan Fly Fishing 2019 Calendars. Get them before they're gone!
On the 11th day of Christmas my true love gave to me...
11 piping pipers get cold and thirsty after all that piping, and fortunately for them the Yeti Rambler Jugs plenty of piping hot beverages perfect for all of those pipe-weary pipers. Available in half-gallon and gallon volumes, these jugs keep liquids piping hot or glacier cold - perfect for the pipers on your list.
On the 10th day of Christmas my true love gave to me...
The reason the 10 lords were leaping is their true love gave them a Thomas & Thomas fly rod for Christmas.  They are hand crafted in the United States and may be fit for royalty, but as it turns out they're also the rod that Santa eventually owned...

On the 9th day of Christmas my true love gave to me...
9 Ladies dancing might distract you from your fishing, but 9 Wiggle Tails, Dragon Tails and Mangum Dragon Tails from Orvis will Dance through the water like you've never seen and attract the attention of one of those big predatory fish you're chasing.  These Tails have been game changing for pike and musky flies, but in the new smaller sizes they're the perfect addition to make any fly dance like never before.
On the 8th day of Christmas my true love gave to me...
8 maids a milking is a serious amount of milk.  Milk runs are fine but water running down the inside of your waders from a leak...not so much.  The Orvis Ultralight waders  are a great choice for a lightweight breathable, packable pair of waders to have for people on the go, like Santa 😉
On the 7th day of Christmas my true love gave to me...
Swans can swim all they want but if you go for a swim when you're fishing there's a lot of expensive gear, not to mention dSLR's, phones & key fobs that frequently forget to hold their breath whilst submerged.... That's why on the 7th day we've got Waterproof Submersible packs from Orvis, Fishpond & Patagonia.
Click HERE to Shop All Bags & Packs
On the 6th day of Christmas my true love gave to me...
Let's not kid ourselves, no angler has a positive association with Goose eggs when they go fishing.  Instead of getting skunked you want to catch more fish so our true love got us the rod designed to help you catch more fish the Orvis H3 Accurate from Anywh3r3 Fly Rod. Whether that's the North Pole, The Bow River or anywhere else, these rods were engineered to help you catch more fish and avoid getting goose eggs on the river. Available in both the Finesse and Distance versions there's going to be the perfect rod for your true love in an Orvis H3.
Click HERE to shop Orvis H3 Fly Rods
On the 5th day of Christmas my true love gave to me...
5 Golden rings is a lot of bling for a fly angler but the Sightline Provisions Bracelets are just the right amount of bling to make your true love feel golden with that ring around their wrist.  They're all hand made in New Mexico by the very talented Edgar and make a very special and unique Christmas gift
Click HERE to Shop Sightline Provisions
On the 4th day of Christmas my true love gave to me...
Would you believe that there used to be a lot more calling birds than there is now?  Unfortunately many of them got used for Fly Tying kits 😉 The good news is a beginner fly tying kit from Santa is the perfect way to pass the cold winter nights and build anticipation for the coming season.
Standard & Deluxe Fly Tying Kits 
On the 3rd day of Christmas my true love gave to me...
In honour of the French our true love thought one of the Rep Your Water Quebec hats would be perfect, but felt 3 options would be appropriate given the 3rd day so we also got a Rep Your Water Alberta Hat as well as a Rep Your Water Canada Maple Leaf Hat
We also carry a HUGE selection of hats from Companies like Orvis, Patagonia, Fishpond, FishOn Energy, Rep Your Wild and more.  Click HERE to browse other hats.
On the 2nd day of Christmas my true love gave to me...
Ninja Turtles may be widely accepted at this juncture, but Turtles with wings like a dove still seems like a stretch... If you're seeing Turtles with wings we're guessing alcohol plays a large role in your piscatorial pursuits, SOOOOO why not get a fancy MFC Stainless Flask for the Spirits you use to lift your Spirits 
Click Here or the Photo to see or BUY MFC Flasks
On the 1st Day of Christmas my true love gave to me...
Partridge in pear trees just don't elicit the same joy when unwrapped these days, especially if you're one of those people who likes to wrap and put their presents under the tree early.  We all know that unwrapping a dead bird for Christmas would put a damper on the morning, so instead you could get custom artwork of your Partridge in a Pear Tree on a Yeti mug by our very own in house Artist extraordinaire Courtney Neal. She may specialize in fish, but she done birds and even peoples dogs.  If you're looking for custom artwork you should contact us asap as she has a huge number of orders to do before Christmas already. We have a limited supply of finished cups in stock, but they've sold very quickly.
Contact the shop at: info@CalgarysFlyShop.com or 403-278-6331
---